Foie gras: scandal in the Parisian palaces of haute cuisine
November 12, 2013
L214 reveals an investigation on the production of "luxury" foie gras
L214 reveals a behind-the-scenes investigation carried out at the firm Ernest Soulard, which supplies foie gras to world-famous starred restaurants and the most renowned luxury hotels in the French capital, including Fouquet's, George V, the Royal Monceau, the Atelier de Joël Robuchon, the Jules Verne and the Meurice (Alain Ducasse), Lenotre and the Grande Brasserie FLO, and other high-end restaurants worldwide.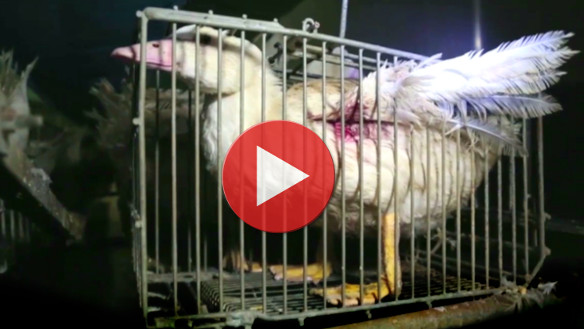 The investigative video filmed in August 2013 in six force-feeding rooms for ducks at Ernest Soulard reveals the appalling conditions in which the animals are kept, and proves that even "high-end" foie gras is produced under atrociously inhumane conditions for the birds, with ducks immobilised in tiny cages while wounded, dying, or being mechanically force fed on a production line. The company also requires the use of antibiotics otherwise banned by the rest of the profession.
Even on the tables of the most prestigious restaurants, foie gras is nothing more than the diseased liver of a bird trapped in a cage, stuffed, and sickened. L214 calls on Joël Robuchon, Alain Ducasse and other master chefs who care about animal welfare to stop condoning animal abuse by putting an end to foie gras on their tables, thereby writing a new page in gastronomic history.
Please sign the petition addressed to master chefs!
"Dear Sir Joël Robuchon, dear Sir Alain Ducasse: Stop supporting animal abuse: give up serving foie gras."
Sign the petition on MesOpinions.com